Handmade
SHARP
Blade: 1060 Carbon Steel
SAGEO & ITO in Cotton
Synthetic Rayskin
Full Tang
Iron Tsuba
Total size: 105cm / 41 (in)
Blade size: 72cm / 28 (in)
Blade width: 3,2cm / 1.2 (in)
Blade thickness: 0,7cm / 0.27 (in)
Handle size: 30cm / 11.8 (in)
Yoriichi's sword is a legendary weapon from the hit anime and manga series Demon Slayer. Known for its incredible strength and unique design, this sword has become a fan-favorite. In this comprehensive guide, we'll explore everything there is to know about Yoriichi's sword and its significance in the Demon Slayer universe.
History and Origin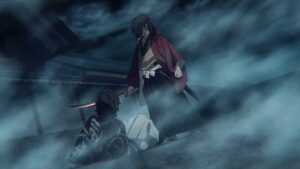 Yoriichi's sword, also known as the "Nichirin Blade," is a powerful weapon used by the Demon Slayer Corps. It is made from a special metal that has been infused with sunlight, giving it the ability to harm and slay demons. The sword was originally wielded by Yoriichi Tsugikuni, a powerful swordsman and one of the strongest Demon Slayers in history.
Powers and Abilities
Yoriichi's sword is a powerful weapon that is capable of slaying demons with ease. Its unique construction allows it to channel the power of sunlight, making it an effective weapon against creatures of darkness. When used in conjunction with the Breath of the Sun technique, Yoriichi's sword becomes even more deadly, allowing the user to perform incredible feats of swordsmanship.
In addition to its demon-slaying abilities, Yoriichi's sword can also emit powerful waves of energy, capable of destroying nearby objects and enemies. This technique, known as "Sun Breathing: Eighth Form – Sun Halo Dance," is one of the most powerful sword techniques in the Demon Slayer universe.
Popularity and Fanbase
Yoriichi's sword has become a fan-favorite among Demon Slayer fans worldwide. Its unique design and incredible abilities have captured the attention of viewers and readers alike, cementing its place as one of the most iconic weapons in the series. The sword has also appeared in various Demon Slayer merchandise, further solidifying its popularity among fans.