Handmade
SHARP
Blade: 1060 Carbon Steel
SAGEO & ITO in cotton
Full Tang
Synthetic Rayskin
Iron Tsuba
Total size: 105cm / 41 (in)
Blade size: 72cm / 28 (in)
Blade width: 3,2cm / 1.2 (in)
Blade thickness: 0,7cm / 0.27 (in)
Handle size: 30cm / 11.8 (in)
Hyōrinmaru sword is a powerful weapon wielded by Toshiro Hitsugaya, a popular character from the Bleach anime and manga series. Known for its unique design and ice-based abilities, this sword has captured the attention of fans worldwide. In this comprehensive guide, we'll explore everything there is to know about Hyōrinmaru sword.
History and Origin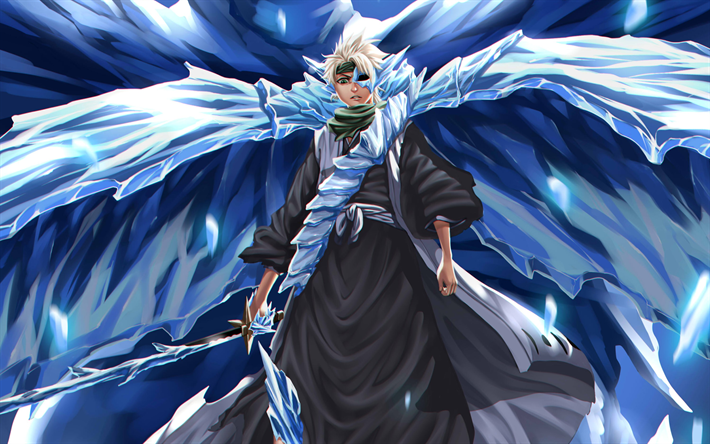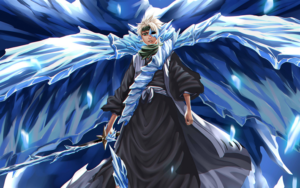 Hyōrinmaru sword was created by a former captain of the 10th Division, Sosuke Aizen, who later turned to the dark side. He crafted the sword from a fragment of the Togabito's chains, which were powerful enough to seal the strongest of hollows. Aizen later gave the sword to Toshiro Hitsugaya, who became its rightful owner and wielder.
Design and Features
Hyōrinmaru sword has a unique design that sets it apart from other swords in the Bleach universe. It features a blue hilt with a white tassel, a long silver blade, and a crossguard shaped like a four-pointed star. The sword also has several distinct features that make it a powerful weapon in battle.
One of its most notable features is its ability to control ice. With a simple wave of the sword, Toshiro can freeze anything in its path. Hyōrinmaru can also generate a dragon-shaped ice spirit that can attack enemies on its own, making it an incredibly versatile weapon in combat.
Powers and Abilities
As previously mentioned, Hyōrinmaru sword's main ability is its control over ice. Toshiro can create a variety of ice-based attacks, such as ice pillars, ice walls, and ice dragons. Hyōrinmaru's ice powers are so strong that it can even freeze flames and negate the powers of other fire-based attacks.
The sword also has a second form, known as Daiguren Hyōrinmaru. In this form, the sword becomes even more powerful, with its ice abilities amplified to their fullest potential. Toshiro can create massive ice storms and launch attacks that can freeze entire landscapes.
Popularity and Fanbase
Hyōrinmaru sword's popularity is evident in the Bleach anime and manga community. Fans have praised its unique design and impressive abilities, making it one of the most sought-after swords in the series. The sword has also appeared in several Bleach video games, further cementing its popularity among fans.