Handmade
SHARP
Blade: 1060 Carbon Steel
SAGEO & ITO in Cotton
Synthetic Rayskin
Full Tang
Iron Tsuba
Total size: 105cm / 41 (in)
Blade size: 72cm / 28 (in)
Blade width: 3,2cm / 1.2 (in)
Blade thickness: 0,7cm / 0.27 (in)
Handle size: 30cm / 11.8 (in)
Who is Rengoku Kyojuro in demon slayer ?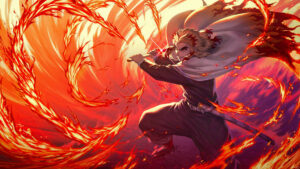 Rengoku Kyojuro is a character in the Demon Slayer: Kimetsu no Yaiba anime and manga series. He is one of the major supporting characters and serves as the Flame Hashira, which is one of the nine most powerful swordsmen in the Demon Slayer Corps.
Rengoku is a passionate and dedicated Demon Slayer who takes his duties very seriously. He is highly skilled with a sword and is known for his use of Flame Breathing techniques, which allow him to harness the power of fire in his attacks.
Throughout the series, Rengoku plays a major role in the story arc that involves the Mugen Train, which is a demon-infested train that has been causing multiple disappearances. He, along with the main protagonist Tanjiro Kamado and his companions, board the train to investigate and eliminate the demons responsible for the disappearances.
Rengoku is known for his fiery personality and his strong sense of justice, as well as his willingness to sacrifice himself to protect others. He is a respected member of the Demon Slayer Corps and a beloved character among fans of the series.
What weapon does rengoku kyojuro uses ?
Rengoku Kyojuro, the Flame Hashira in Demon Slayer, uses a Nichirin Blade as his weapon. A Nichirin Blade is a special sword made from a unique ore that absorbs sunlight and can emit different colored blades that each have their own special properties.