Handmade
SHARP
Blade: 1060 Carbon Steel
SAGEO & ITO in Cotton
Synthetic Rayskin
Full Tang
Iron Tsuba
Total size: 105cm / 41 (in)
Blade size: 72cm / 28 (in)
Blade width: 3,2cm / 1.2 (in)
Blade thickness: 0,7cm / 0.27 (in)
Handle size: 30cm / 11.8 (in)
What is the Sandai Kitetsu ?
Sandai Kitetsu is a cursed sword in the One Piece manga and anime series. It is one of the 21 O Wazamono grade swords, which are considered to be some of the strongest swords in the world.
The curse of the Sandai Kitetsu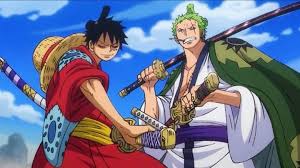 The Sandai Kitetsu is also known for its curse, which brings misfortune to its wielder. The curse of Sandai Kitetsu is said to be so strong that it can bring death to those who are unworthy or lack the necessary skill to wield it properly.
Who is wielding the Sandai Kitetsu ?
In the One Piece series, Sandai Kitetsu is wielded by the swordsman Roronoa Zoro. Zoro is one of the main protagonists of the series and a member of the Straw Hat Pirates, led by Monkey D. Luffy.
Zoro is a highly skilled swordsman and is known for his use of three swords in combat, including Sandai Kitetsu. Despite the sword's curse, Zoro was drawn to its exceptional sharpness and took it as one of his weapons.
As a skilled swordsman, Zoro has been able to control the curse of Sandai Kitetsu and wield it without falling victim to its misfortune. The sword has become one of Zoro's most prized possessions and is a testament to his skill and determination to become the greatest swordsman in the world.